Natrelle® 410 Gel Breast Implants Offer Unique Advantages, Says Los Angeles Plastic Surgeon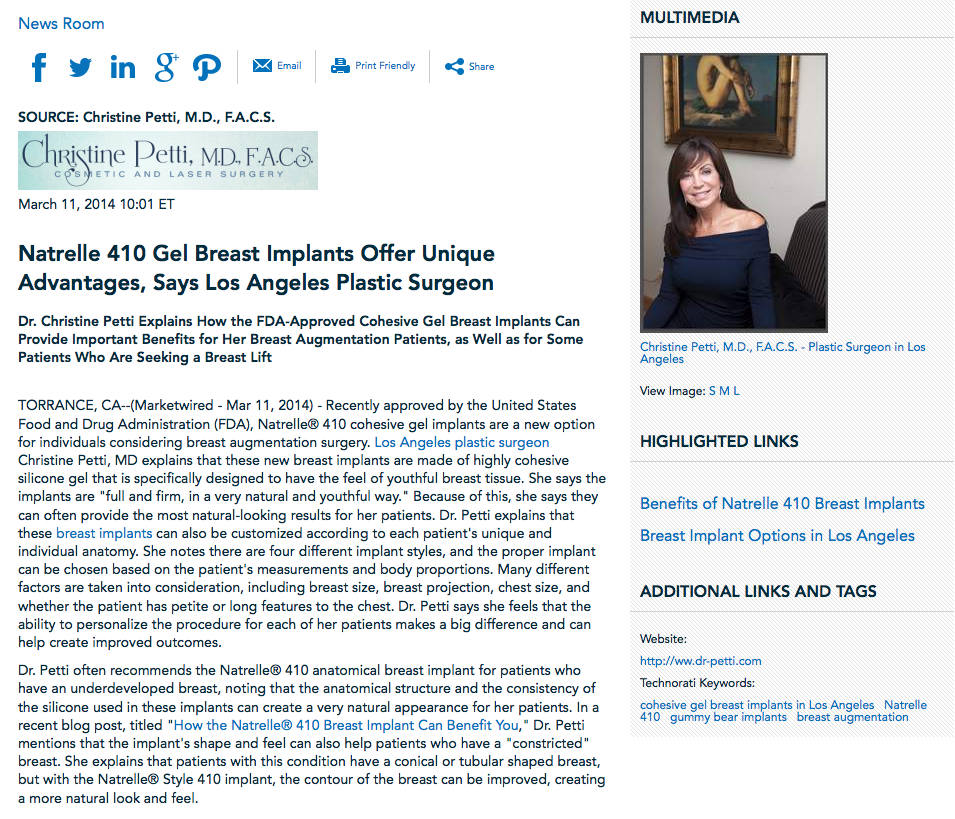 Dr. Christine Petti explains how the FDA-Approved cohesive gel breast implants can provide important benefits for her breast augmentation patients, as well as for some patients who are seeking a breast lift.
Torrance, CA — Recently approved by the United States Food and Drug Administration (FDA), Natrelle® 410 cohesive gel implants are a new option for individuals considering breast augmentation surgery. Los Angeles plastic surgeon Christine Petti, MD explains that these new breast implants are made of highly cohesive silicone gel that is specifically designed to have the feel of youthful breast tissue. She says the implants are "full and firm, in a very natural and youthful way." Because of this, she says they can often provide the most natural-looking results for her patients. Dr. Petti explains that these breast implants can also be customized according to each patient's unique and individual anatomy. She notes there are four different implant styles, and the proper implant can be chosen based on the patient's measurements and body proportions. Many different factors are taken into consideration, including breast size, breast projection, chest size, and whether the patient has petite or long features to the chest. Dr. Petti says she feels that the ability to personalize the procedure for each of her patients makes a big difference and can help create improved outcomes.
Dr. Petti often recommends the Natrelle® 410 anatomical breast implant for patients who have an underdeveloped breast, noting that the anatomical structure and the consistency of the silicone used in these implants can create a very natural appearance for her patients. In a recent blog post, titled "How the Natrelle® 410 Breast Implant Can Benefit You," Dr. Petti mentions that the implant's shape and feel can also help patients who have a "constricted" breast. She explains that patients with this condition have a conical or tubular shaped breast, but with the Natrelle® Style 410 implant, the contour of the breast can be improved, creating a more natural look and feel.
Patients who are considering a breast lift or a breast implant revision surgery can also benefit from this implant, says Dr. Petti. In a follow-up blog, titled "Rosario's Story – Natrelle® 410 Breast Implants," Dr. Petti explains how the Natrelle® 410 implants helped her to assist a woman seeking to correct the unsatisfactory results of a previous breast augmentation. Dr. Petti states that her customized techniques for breast implant contractures permitted her to restore a natural shape, as well as a soft and natural feel to the breasts. She also notes that patients with mild mammary ptosis (breast sag) can sometimes avoid the need for a full breast lift because the fullness of the cohesive gel implants can often provide the amount of lift needed.
Dr. Petti says this unique new breast implant is designed to be able to maintain itself over time, as well as when patients move from position to position. She explains that this is due to the specific surgical process used to place the implant. "The surgical procedure is performed to make a customized, fitted pocket for the implant, either under the muscle or above the muscle, depending on the individual patient's anatomy requirements. The pocket fits the implant so that the tissues of the breast and the muscle hug the implant, holding it in position, thereby maintaining a natural shape," she says.
Although there are many advantages to Natrelle® 410 breast implants, Dr. Petti believes there can be disadvantages associated with the implants when it comes to how the surgery is performed. According to Dr. Petti, breast augmentation with anatomical implants requires precision of pocket dissection, so if the surgeon does not take a detailed approach to this particular portion of the procedure, the patient may not achieve the results they hoped for. Because of this, Dr. Petti stresses that anyone considering breast augmentation with Natrelle® 410 breast implants should seek a skilled and experienced plastic surgeon who is certified to provide them.
About Christine Petti, M.D., F.A.C.S.
Board-certified plastic surgeon Dr. Christine Petti is an active member of the American Society of Plastic Surgeons, the Los Angeles County Medical Association, and the American Society for Aesthetic Plastic Surgery. She is the Medical Director of her private practice in the Los Angeles area, and has appeared as a guest speaker on CBS's television show, "The Doctors" numerous times. Dr. Petti has also been featured on ABC's 20/20 as a medical expert. Prior to completing her plastic surgery residency at The University of Chicago, Pritzker School of Medicine, she attended both Georgetown University and The Medical College of Pennsylvania to achieve her medical degree. Dr. Petti is available for interview upon request.
To learn more about Dr. Petti and her practice, please visit dr-petti.com or facebook.com/drpetti.
Contact:
Christine Petti, M.D., F.A.C.S.
Cosmetic and Laser Surgery
3400 W. Lomita Blvd.
Suite 307
Torrance, CA 90505
(310) 961-2530
Rosemont Media
[email protected]
(858) 200-0044
www.rosemontmedia.com