Los Angeles Plastic Surgeon Develops Facelift Alternative for Faster Results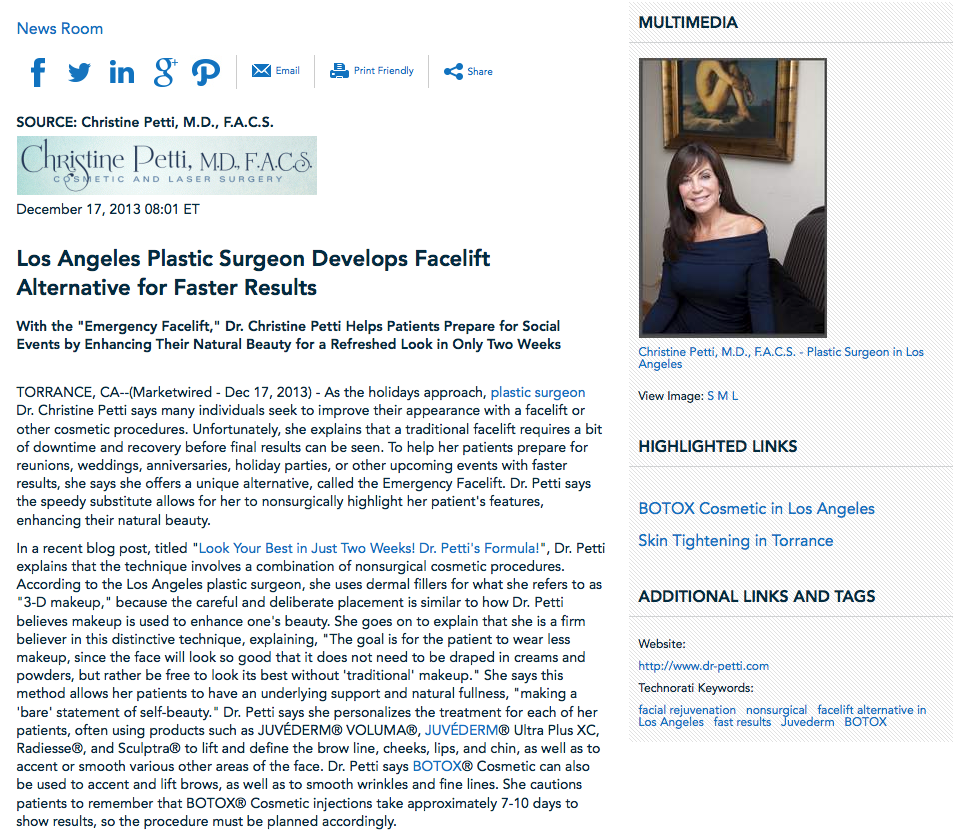 With the "Emergency Facelift," Dr. Christine Petti helps patients prepare for social events by enhancing their natural beauty for a refreshed look in only two weeks.
Torrance, CA — As the holidays approach, plastic surgeon Dr. Christine Petti says many individuals seek to improve their appearance with a facelift or other cosmetic procedures. Unfortunately, she explains that a traditional facelift requires a bit of downtime and recovery before final results can be seen. To help her patients prepare for reunions, weddings, anniversaries, holiday parties, or other upcoming events with faster results, she says she offers a unique alternative, called the Emergency Facelift. Dr. Petti says the speedy substitute allows for her to nonsurgically highlight her patient's features, enhancing their natural beauty.
In a recent blog post, titled "Look Your Best in Just Two Weeks! Dr. Petti's Formula!", Dr. Petti explains that the technique involves a combination of nonsurgical cosmetic procedures. According to the Los Angeles plastic surgeon, she uses dermal fillers for what she refers to as "3-D makeup," because the careful and deliberate placement is similar to how Dr. Petti believes makeup is used to enhance one's beauty. She goes on to explain that she is a firm believer in this distinctive technique, explaining, "The goal is for the patient to wear less makeup, since the face will look so good that it does not need to be draped in creams and powders, but rather be free to look its best without 'traditional' makeup." She says this method allows her patients to have an underlying support and natural fullness, "making a 'bare' statement of self-beauty." Dr. Petti says she personalizes the treatment for each of her patients, often using products such as JUVÉDERM® VOLUMA®, JUVÉDERM® Ultra Plus XC, Radiesse®, and Sculptra® to lift and define the brow line, cheeks, lips, and chin, as well as to accent or smooth various other areas of the face. Dr. Petti says BOTOX® Cosmetic can also be used to accent and lift brows, as well as to smooth wrinkles and fine lines. She cautions patients to remember that BOTOX® Cosmetic injections take approximately 7-10 days to show results, so the procedure must be planned accordingly.
To enhance her patient's lips, Dr. Petti says she uses "softer" dermal fillers, such as JUVÉDERM® Ultra or BELOTERO BALANCE®. She explains these fillers are specifically chosen for their ability to create a soft, natural-looking lip enhancement, "creating lips that are full and inviting." She also notes that Sculptra® and JUVÉDERM® VOLUMA® can be used to restore volume to the cheeks and temples, which she describes as "areas that often deflate early on in the aging process and especially with weight loss, giving one a gaunt and forlorn appearance."
To help balance her patient's skin tone, Dr. Petti often uses LimeLight Facial™ (Intense Pulsed Light), FotoFacial®, or Laser Genesis to reduce the appearance of spider veins, redness, brown spots and sun damage. For skin tightening, depending on each individual patient's needs, Dr. Petti says she uses SmartSkin™ fractional laser peels or Cutera® Titan infrared skin tightening treatments. She advises her patients to complete these skin tightening treatments early on, generally at least two to four weeks prior to the social event for which they are preparing. Dr. Petti explains, "This will allow the maximum skin tightening to occur just in time to look fabulous!"
The Emergency Facelift addresses more than just the face, according to Dr. Petti. She explains that she helps patients to comprehensively improve their skin with at-home treatments, including the Clarisonic® Opal and the Clarisonic® Cleansing and Brightening Vibrating Brush. She adds that many patients also choose to include a finishing, sun-kissed touch to the skin of the face, decollate and legs with Red Carpet Kolour. Dr. Petti says this product can be used as a skin bronzer or cover up to "make skin look naturally radiant and give one confidence going with bare legs and arms!"
Prior to beginning an Emergency Facelift, Dr. Petti advises her patients to stop taking medications such as aspirin, Motrin®, and Advil® at least ten days before injection treatments. She also recommends for her patients to begin taking Arnica Montana and Bromelain supplements the day before any injection therapies, and to continue for three days after treatment. Dr. Petti explains that by making these changes, patients can minimize bruising and swelling that can sometimes occur after injections.
Ultimately, Dr. Petti says the Emergency Facelift is a nonsurgical technique designed to enhance one's natural beauty in a short amount of time, and it can be personalized to meet the needs of each patient, helping them to look their best at an upcoming social event, or even better, as a "self-refresher" that can last throughout the year!
About Christine Petti, M.D., F.A.C.S.
Dr. Christine Petti is a board-certified plastic surgeon who has been featured as a medical expert on ABC's 20/20. She has also had numerous appearances as a guest speaker on the CBS television show, "The Doctors." Dr. Petti is the Medical Director of her private practice in the Los Angeles area, which was established in 1988. After attending both Georgetown University and The Medical College of Pennsylvania for medical school, Dr. Petti completed her plastic surgery residency at The University of Chicago, Pritzker School of Medicine. She is an active member of the American Society for Aesthetic Plastic Surgery, the American Society of Plastic Surgeons, and the Los Angeles County Medical Association. Dr. Petti is available for interview upon request.
To learn more about Dr. Petti and her practice, please visit dr-petti.com or facebook.com/drpetti.
Contact:
Christine Petti, M.D., F.A.C.S.
Cosmetic and Laser Surgery
3400 W. Lomita Blvd.
Suite 307
Torrance, CA 90505
(310) 961-2530
Rosemont Media
[email protected]
(858) 200-0044
www.rosemontmedia.com