Los Angeles Plastic Surgeon Gives Patients a New Look With Breast Implant Revision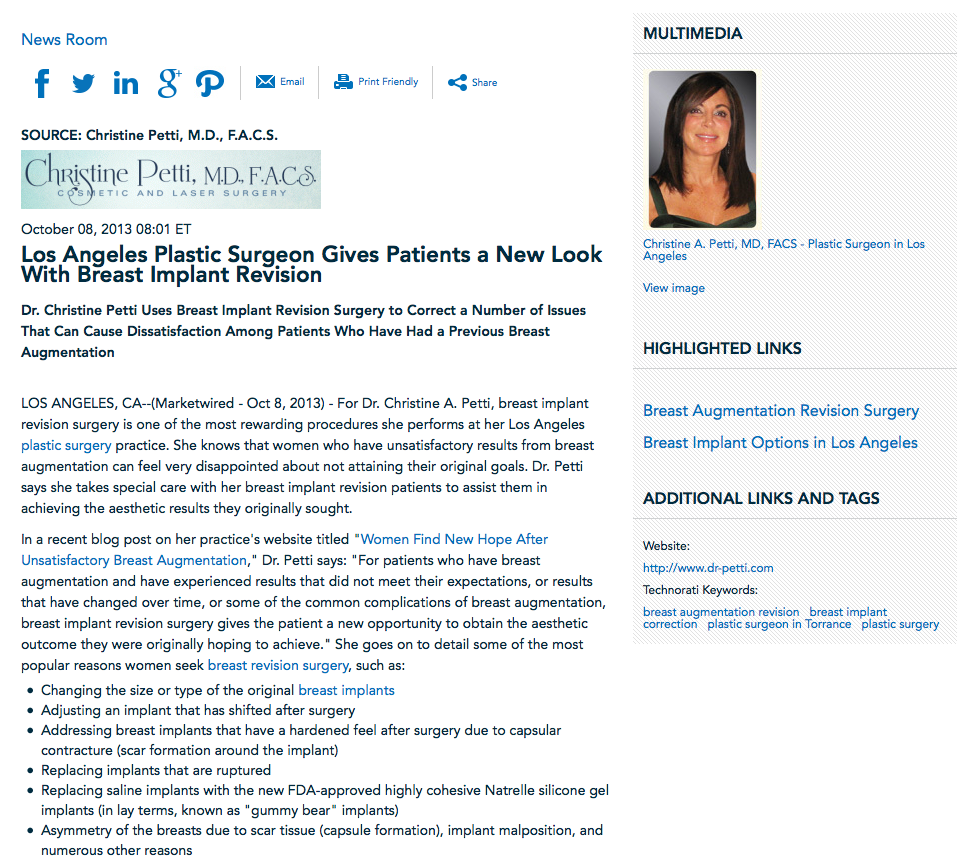 Dr. Christine Petti uses breast implant revision surgery to correct a number of issues that can cause dissatisfaction among patients who have had a previous breast augmentation.
Los Angeles, CA – For Dr. Christine A. Petti, breast implant revision surgery is one of the most rewarding procedures she performs at her Los Angeles plastic surgery practice. She knows that women who have unsatisfactory results from breast augmentation can feel very disappointed about not attaining their original goals. Dr. Petti says she takes special care with her breast implant revision patients to assist them in achieving the aesthetic results they originally sought.
In a recent blog post on her practice's website titled "Women Find New Hope After Unsatisfactory Breast Augmentation," Dr. Petti says: "For patients who have breast augmentation and have experienced results that did not meet their expectations, or results that have changed over time, or some of the common complications of breast augmentation, breast implant revision surgery gives the patient a new opportunity to obtain the aesthetic outcome they were originally hoping to achieve." She goes on to detail some of the most popular reasons women seek breast revision surgery, such as:
Changing the size or type of the original breast implants
Adjusting an implant that has shifted after surgery
Addressing breast implants that have a hardened feel after surgery due to capsular contracture (scar formation around the implant)
Replacing implants that are ruptured
Replacing saline implants with the new FDA-approved highly cohesive Natrelle silicone gel implants (in lay terms, known as "gummy bear" implants)
Asymmetry of the breasts due to scar tissue (capsule formation), implant malposition, and numerous other reasons
As a woman and a plastic surgeon, Dr. Petti says she considers breast implant revision a vital component of her practice—she wants to raise awareness about the procedure so women who have had a less than satisfactory experience with breast augmentation know they do not need to live with results that did not meet their expectations. Dr. Petti spends time counseling women who have had breast augmentation on what exact and realistic outcomes they can expect. As this dialogue occurs, Dr. Petti draws the anatomy and outlines the surgery on a touch screen. She notes that these communications are paramount in the consultation for patients considering additional breast implant surgery.
Dr. Petti uses a number of techniques to improve the appearance of the breasts, including recreating the implant pocket to produce a full, soft, natural look, managing scar tissue remaining from the patient's previous surgery. She designs and utilizes a special "internal bra" type of suture repair that creates extra support for the patient's breasts, providing good cleavage and preventing the implants from drifting sideways off the front of the chest.
Although Dr. Petti's breast implant revision patients each visit her practice for varying reasons, her aesthetic goals are always the same: "To educate and assist patients in overcoming their disappointment with their original procedure in order to allow the patient to achieve the self-confidence and inspiring cosmetic results they initially sought."
About Christine A. Petti, MD, FACS
Dr. Christine Petti is a graduate of St. Mary's College of Notre Dame and earned her medical degree at The Medical College of Pennsylvania, Philadelphia. She completed her plastic surgery residency at The University of Chicago Pritzker School of Medicine, She is a member of The American Society of Plastic Surgeons, The American Society for Aesthetic Plastic Surgery, and The Los Angeles County Medical Association. In addition to being a board-certified plastic surgeon, Dr. Petti holds community educational seminars, guest-speaking events, and provides clinical internship opportunities. She serves as the Medical Director of the Palos Verdes Ambulatory Surgery Medical Center and Spa Bella. Dr. Petti has been a guest speaker on the CBS television series, "The Doctors," for four consecutive years, was selected by US News and World Report as one of the Top Doctors in the country, and recently appeared as an expert surgeon on ABC's 20/20. She is available for interview upon request.
For more information about Dr. Petti and her practice, please visit dr-petti.com or facebook.com/drpetti.
Contact:
Christine Petti, MD, FACS
Cosmetic and Laser Surgery
3400 W. Lomita Blvd.
Suite 307
Torrance, California 90505
(310) 961-2530
Rosemont Media
[email protected]
(858) 200-0044
www.rosemontmedia.com