JUVÉDERM VOLBELLA® XC
Naturally thin or aging lips can benefit from a variety of injectable cosmetic fillers to enhance contours and create a more youthful appearance; however, advancements in dermal filler technology have created a new product in the JUVÉDERM® family that is developed especially for these applications. JUVÉDERM VOLBELLA® XC is a next generation hyaluronic acid dermal filler uniquely formulated to smooth fine lines around the mouth and add soft, subtle volume to the lips. This long-lasting injectable gel has been proven to achieve remarkable results that can remain for up to one year or more.
Plastic surgeon Christine Petti, MD has incorporated FDA-approved JUVÉDERM VOLBELLA® XC into her offering of injectable treatments and often combines this product with BOTOX® Cosmetic and other dermal fillers to achieve comprehensive facial rejuvenation.
Benefits of JUVÉDERM VOLBELLA® XC
As we grow older, the lips can begin to lose volume and suppleness, and vertical lines can form on the skin around the lips (called perioral rhytids). The hyaluronic acid-based formula of JUVÉDERM VOLBELLA® XC is designed to combat these changes by bonding with moisture molecules beneath the skin to plump the area, add definition, and reduce the appearance of wrinkles. Patients with naturally thin lips can also benefit from the smooth, long-lasting JUVÉDERM VOLBELLA® XC formula. Dr. Petti often recommends JUVÉDERM VOLBELLA® XC for patients who desire lip augmentation results that balance their facial features and do not look overly "done". Since hyaluronic acid is a substance found naturally within the body, no allergy testing is required before treatment.
The JUVÉDERM VOLBELLA® XC Procedure
During your consultation, Dr. Petti will carefully listen to your cosmetic concerns and help ensure that JUVÉDERM VOLBELLA® XC is the right dermal filler for achieving your aesthetic goals. Before treatment, the area will be numbed with a topical anesthetic to alleviate potential discomfort during injection. Next, JUVÉDERM VOLBELLA® XC is carefully administered with a very fine needle to the designated treatment areas. Since the product's formula contains lidocaine, patients typically report little, if any, discomfort during the procedure. Dr. Petti can usually complete treatment with JUVÉDERM VOLBELLA® XC in 30 minutes. Many patients have the procedure performed during a lunch break or between errands and return to their daily activities immediately.
JUVÉDERM VOLBELLA® XC Recovery and Results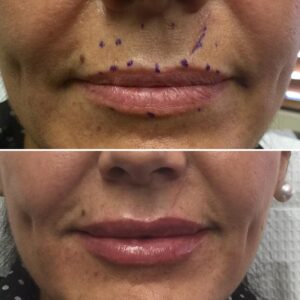 It is not unusual for patients to experience mild swelling or bruising at the treatment sites that dissipates quickly. The plumping effects of JUVÉDERM VOLBELLA® XC can be seen immediately and results typically last for up to one year or more. To maintain fuller, smoother, more youthful lips with JUVÉDERM VOLBELLA® XC, patients can schedule follow-up treatments with Dr. Petti as needed.
To learn more about JUVÉDERM VOLBELLA® XC, or to schedule a consultation with Dr. Petti, please contact our office today.