Sculptra® Aesthetic Patient Testimonials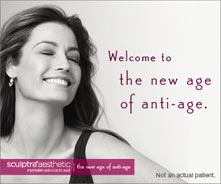 "Sculptra® Aesthetic has been a life saver for me! With Sculptra® Aesthetic, the youthful shape and contour of my face has been preserved and results subtle, natural and real! It has been my non-surgical salvation!
– Dr. Christine Petti, Plastic/Aesthetic Surgeon, Torrance, CA
"Sculptra® Aesthetic is the BEST thing that I have ever done to my face!"
– M.S. Torrance
"I always get compliments about my skin. Trust me I had very problematic skin and have been working on my skin for 20 years. Dr. Petti in consultation discussed Sculptra® Aesthetic with me showing me how and where I needed the volume put back into my face, not to mention in time the texture as well in my face would improve. She was very thorough educating and informing me.
As a result after having Sculptra® Aesthetic twice, my observation is that my bilateral lower periorbital area looks soooooo much better, not to mention the lower area of my face. (I now try not to sleep on my face). The texture of my skin as I had active Acne skin in the past, looks so much better! The volume put back into my face has given me a much more youthful appearance. Remember as we sleep at night, we always favor one side of our face. Our skin is material and when we sleep on one side year after year after year, we tend to get laxity on one side more than the other.
I always heard people saying they hated their Jowls/Marionette lines and under their eyes, because they suddenly notice one day when looking in the mirror and become horrified to see how much they aged. That was me!!
Giving my face the volume it has lost with Sculptra® Aesthetic not only brought back my youthful appearance I once had, but it continues to work over time stimulating collagen and improving the texture of my skin.
I have had Sculptra® Aesthetic twice and saw results immediately! Dr. Petti also educated me about great medical skin care with consistency being key to great looking skin. So as I maintain my cosmetic skin treatments with Dr. Petti in her medical office, then at home under her recommendation I am doing my medical skin care regimen, like physical fitness it is Skin Fitness!!
I am happy with the beautiful results of Sculptra® Aesthetic! Along with the consistency of great medical skin care that I have been diligently keeping up on.
Thank You Dr. Petti for giving me back my face that is not only youthful and beautiful now, but also the education about maintaining and preserving my skin for the present and future!"
– S. T. Mission Viejo