RADIESSE® for Hand Rejuvenation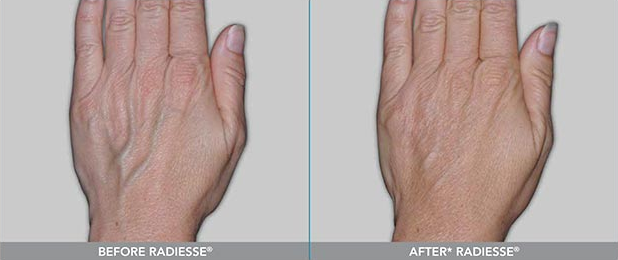 Due to constant exposure and the way our skin and tissues naturally age, hands can sometimes look older than the rest of our body. Fat and volume loss can make the tendons, joints, and veins of the hands appear more prominent, while thinning skin creates transparency and a crepe-like texture. Using the FDA-approved dermal filler RADIESSE®, Dr. Christine Petti can rejuvenate the appearance of your hands to give them a more supple, youthful look.
The benefits of RADIESSE® for hand rejuvenation can include:
Restoration of lost volume
Reduction in the protrusion of veins and joints
Stimulation of collagen and elastin production
Long-lasting results
Most patients notice the volumizing effects of RADIESSE® immediately. Since RADIESSE® is an injectable dermal filler, there is no surgery involved and minimal recovery. The results of RADIESSE® treatments can last up to two years or more. Some patients choose to combine RADIESSE® with SmartSkin CO2™ laser skin rejuvenation, which can treat skin discolorations and even tone, to further enhance the appearance of hands.
To find out if you may be a good candidate for RADIESSE® hand rejuvenation, contact our office to schedule a consultation with Dr. Petti today.