Is Body Contouring with SculpSure® or Smartlipo Triplex™ Right for You?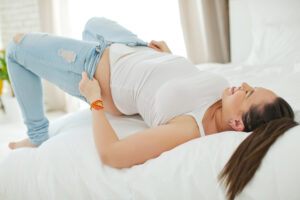 When it comes to body contouring, many patients who are at or near their ideal weight are often searching for alternatives to traditional liposuction. If you have isolated pockets of fat and already live a healthy lifestyle, you may be a good candidate for a less invasive method of fat reduction. Dr. Christine Petti offers two innovative body contouring procedures that have helped patients like these realize their cosmetic goals: SculpSure® and Smartlipo Triplex™. As a research consultant for Cynosure (the creator of both body contouring technologies), and director of her own SculpSure® and Smartlipo™ training center, Dr. Petti is considered to be one of the top experts in utilizing these systems. She has even been a featured on The Doctors to discuss the benefits of SculpSure® and Smartlipo Triplex™, and showcase patient results.
SculpSure® is a non-surgical, noninvasive procedure that can eliminate excess fat cells from the hips, abdomen, love handles, arms, and other areas of stubborn fat within a 25-minute treatment session. By targeting unwanted fat with thermal energy, fat cells can be destroyed and are naturally eliminated from the body. This procedure can be ideal for patients who are a healthy weight and need help reducing areas of fat that do not respond to changes in diet and exercise. Multiple treatment sessions can be performed to maximize results.
Smartlipo Triplex™ is a minimally-invasive surgical procedure that uses a laser to melt and remove unwanted fat through a very small entry point. Smartlipo™ can be used to target a wider range of body areas, including the abdomen, hips, back, buttocks, thighs, knees, arms, and neck. Smartlipo™ may also prove to be more beneficial for patients with larger areas of excess fat. As an added advantage, the advanced laser technology used in the innovative Smartlipo Triplex™ system simultaneously tightens skin as fat is melted. Dr. Petti can use Smartlipo Triplex™ to treat areas of fat and loose skin for leaner tighter contours without creating the scarring that can accompany invasive procedures like tummy tuck.
Want to learn which body contouring technique is best suited to addressing all of your needs, please schedule a consultation with Dr. Petti today.
Dr. Christine Petti is a board-certified plastic surgeon who has had a private practice in the South Bay and Los Angeles area since 1988. She specializes in aesthetic plastic surgery, aesthetic laser surgery and non-invasive surgical cosmetic rejuvenation procedures.