SculpSure® Now FDA-Approved to Treat the Back and Thighs
SculpSure®, the non-surgical, non-invasive body sculpting system created by Cynosure®, has just been FDA-approved to treat three new areas of the body: the back, inner thighs, and outer thighs. Plastic surgeon, Christine Petti, MD, has been using the SculpSure® system to successfully reduce areas of excess fat from the hips, abdomen, love handles, and arms and patients are excited to learn they can now treat these additional common problem areas. With these new FDA-approvals, Dr. Petti can perform more comprehensive body contouring treatment plans with SculpSure® alone. SculpSure®'s revolutionary technology allows patients to achieve significant fat loss without the downtime or recovery associated with surgical procedures, making it one of the most popular options that Dr. Petti offers at her practice.
SculpSure® uses flat paddles placed against the skin's surface to apply thermal energy to targeted areas of stubborn fat. Fat cells are heated to a specific temperature that destroys them, while leaving the surrounding healthy tissue unaffected. The body then breaks down and eliminates the damaged fat cells and over a period of about 12 weeks, excess fat in the treated area is typically reduced by up to 24%. Treatment sessions take only about 25 minutes and, in some cases, multiple areas can be treated simultaneously. For optimal results, Dr. Petti may recommend a series of treatment sessions to achieve maximum fat reduction. As with all procedures Dr. Petti performs, your SculpSure® treatment plan will be custom-tailored to suit your unique needs and cosmetic goals. If SculpSure® is not the ideal treatment for your fat reduction and body sculpting needs, Dr. Petti offers other innovative options, such as SmartLipo® Triplex®, which may be better suited to achieving the figure you desire.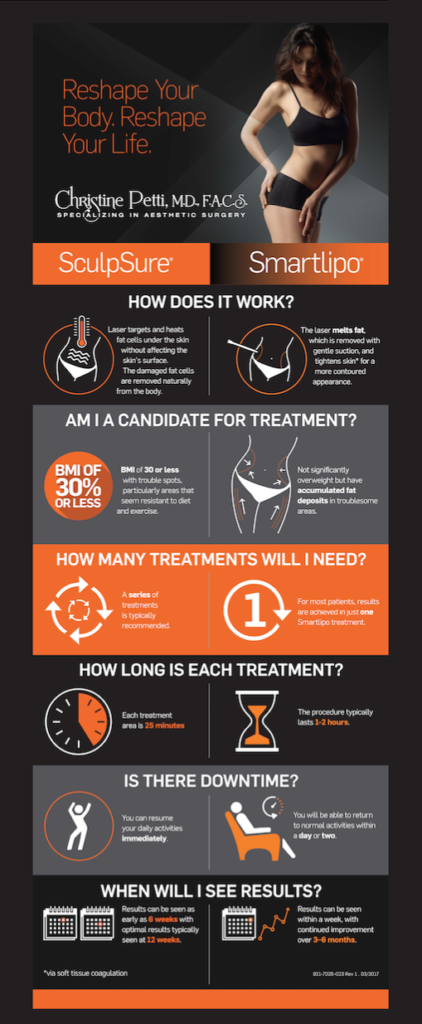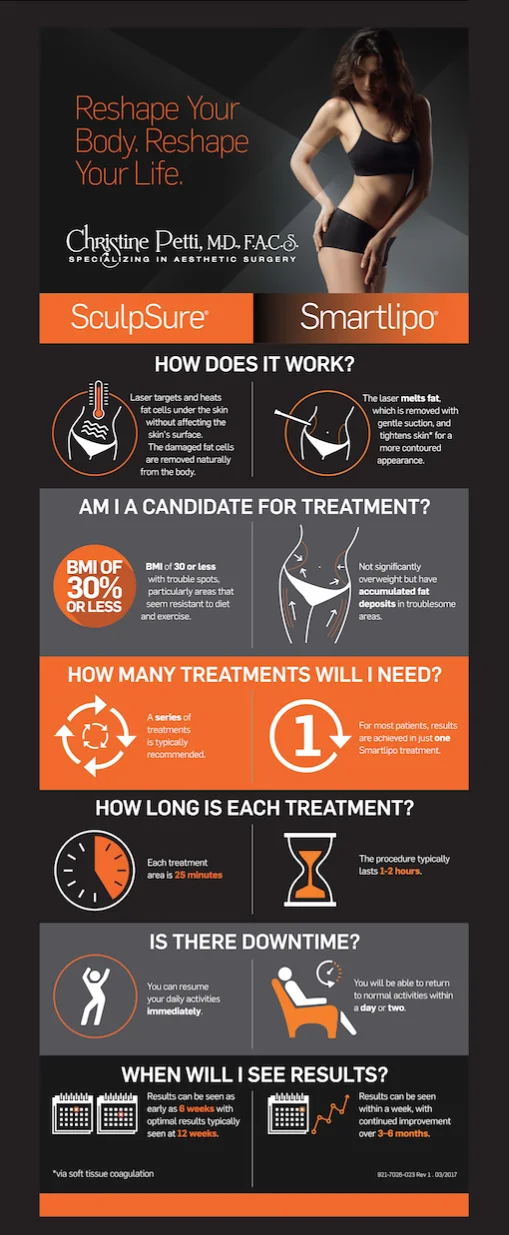 To learn more about SculpSure® and explore your body contouring options, we encourage you to contact our office to schedule a consultation with Dr. Petti.